About Resurfacing
The resurfacing process is based on the adhesion of our specialty coating to your surface. Our resurfacing products are non-toxic, have been quality tested and can be used on most types of surface: porcelain, ceramic, acrylic, fibreglass, plastic, PVC, laminate, wood, marble, granite and metal.
What We Do
Kitchens
Cabinets
Benchtops
Splashbacks

Bathrooms
Wall tiles
Bathtubs
Vanities
Resurfacing Steps
The day before we start the resurfacing job, please make sure you remove all appliances from surfaces and empty all cabinets so we can get straight to work.
Resurfacing Process Steps:
1. Silicone removal and cleaning
2. Acid or sanding
3. Repairs
4. Masking the area to protect your home and furniture
5. Resurfacing:
1. Primer
2. Polyurethane spray paint
6. Finishing
7. Once all is complete, we leave your room ready to be used after 24 hours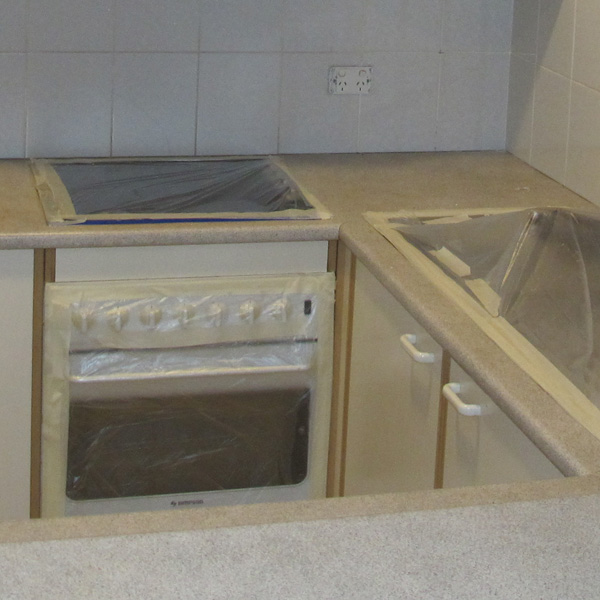 Care Instructions
A resurfaced fixture will look great and last for years as long as it is treated correctly. You should maintain newly resurfaced surfaces the same way you would maintain a new kitchen or bathroom.
The following instructions will keep the finish clean and attractive for many years:
1.Clean with warm soapy water or liquid detergents that will clean the fixture without dulling the finish, such as "spray & wipe" products or liquid dish washing soap.
2.Always rinse well and dry new surfaces as often as possible after use to prevent standing water.
3.Do not use abrasive cleaners in powder or cream form.
4.Do not use acids on the finish.
5.Do not use sharp utensils to chop, slice or dice food directly on the surface.
Gallery